News extrated from
http://www.enn.com/
and
http://www.clickgreen.org.uk/
News - 28/03/2011
Earth Hour 2011 a success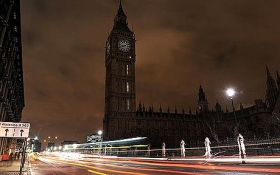 As the lights come back on in the Cook Islands, the 134th country to celebrate Earth Hour 2011 — a record breaking year for the annual lights-out event — the global community has shown it is united in commitment to a sustainable future.
Around the world, Earth Hour was embraced by the global community, transcending race, culture, age and economics as individuals took leadership in their communities in the pursuit of a cleaner and safer planet.
In 2011, Earth Hour asked the hundreds of millions of people taking part in the one hour switch-off to take the next step and go beyond the hour, using Earth Hour to commit to ongoing action for the planet.
"The Beyond the Hour call to action has been unanimously answered by people worldwide", said Andy Ridley, Co-Founder and Executive Director of Earth Hour. "From school children in Singapore, to Heads of State from the UK, to Australia, Pakistan and Colombia, people have shown that Earth Hour has evolved beyond lights-out.
"This years' event has illustrated without question what can be achieved when people unite with a common purpose and rally to action."
As Earth Hour progressed towards the conclusion of the 2011 lights off event across the planet the Americas celebrated the arrival of the global movement with a plethora of lights-off events across the region. Brazil continued the stronger showing for Earth Hour in emerging economies, as the wildly successful call for action on the environment continued to roll around the globe.
Hundreds of millions in thousands of cities, towns and communities in a record 134 countries were expected to have participated by the time the lights out and pledge action beyond the hour completes its passage from New Zealand on one side of the International Date Line to the former New Zealand dependency of the Cook Islands on the other.
Brazil set its own record with 124 cities taking part this year compared to the still creditable 98 of 2010. This included around 2/3 of the state capitals and coverage across all 5 Brazilian regions. More cities and towns are likely to reveal Earth Hour activities in the coming days.
A huge and emotional event involving more than 3,000 was held in Rio, in front of Arcos da Lapa, a colonial era aqueduct which faded into darkness for the event for the first time. Popular Brazilian singer Toni Garrido warmed up the crowd for addresses from Brazil Environmental Minister, Izabella Teixeira, and Rio de Janeiro Mayor, Eduardo Paes.
What are the odds of a nuclear accident in US?
Safety features at the Browns Ferry plant in northern Alabama are so superior to those at Japan's Fukushima Daiichi plant that even in the event of massive flooding the chances of a crisis were negligible, officials from the Tennessee Valley Authority (TVA) told reporters.
"What we have here is defense in depth, multiple levels of redundancy, backup to the backup to the backup," TVA communications consultant Jim Nesbitt told journalists who toured the facility on Friday as he explained the plant's elaborate safety systems.
The emergency at the Japanese plant has escalated since March 11 when a tsunami, triggered by a massive earthquake, knocked out power.
It has revived debate over U.S. nuclear safety just as the industry is set for its first expansion since an accident at the Three Mile Island nuclear facility in Pennsylvania in 1979. About 20 percent of U.S. electricity is supplied by nuclear power.
Japan's woes have focused attention on how far U.S. facilities are protected against one-off events such as terrorist attacks, earthquakes or flooding.
Comparisons between Fukushima and Browns Ferry are relevant because both have Mark 1 boiling water reactors made by General Electric. In total, there are 23 such reactors in the United States. [ID:nN24140384]
Some nuclear engineers deem these reactors more vulnerable than newer pressurized reactors to dangerous overheating in the event of power loss.
Critics point to objections raised by U.S. nuclear engineers in the 1970s and 1980s about possible design vulnerabilities in boiling water reactors and they say what happened at Fukushima merely validates those concerns.
"We've known since the 1970s that these designs are dangerous and now we've seen what can happen," Diane D'Arrigo, radioactive waste project director at the Nuclear Information and Resource Service, said in an interview.
Image shows Browns Ferry nuclear plant under construction. Note the large "doughnut" ring under the reactor vessel. Credit: Tennessee Valley Authority.
Electric Cars and the Kindness of Strangers
As if we don't have enough phobias already, now there is range anxiety, a malady brought on by the electric car. But it's okay; there is a cure, or rather an app for that.
Studies indicate that many electric car drivers — and those considering joining the ranks — suffer the fear of running out of power and being stranded with a dead battery. A little planning ahead could take the pressure off; there are an estimated 1,400 vehicle charging stations in the United States today and the number is growing.
Even though most people drive less than the 100 miles a day allowed by many EV's, range anxiety remains a logistical — and largely psychological — impediment to widespread electric vehicle adoption by consumers. One 2010 study showed range anxiety even caused EV drivers to modify their driving behaviors, decreasing the travel range and limiting most trips to no more than 25 miles.
Several companies have stepped up to ease the pain. The navigation system in the new electric Ford Focus finds electrical charging stations nearby and can help the driver conserve power by suggesting turning off the A/C or taking a more leisurely route. Google Maps, in partnership with the U.S. Department of Energy's National Renewable Energy Laboratory (NREL) recently added electric vehicle charging stations to its popular platform, allowing users to search for and pinpoint more than 600 charging stations.
PlugShare, a new free app from Xatori, goes one step further with a personal touch: users can find home charging stations close by, and even list their own as a safe-haven for range-anxious drivers. PlugShare works with iPhone, iPad and iPod Touch, and you don't need an EV or a special outlet to join. Accounts are customizable; those who wish to share can list their name, number and address as well as what types of energy they have available and where to find it (like the garage). The integrated app uses handy icons to identify private and public standard outlets, EV plugs and charging stations. With just a few clicks, you can identify the nearest charging station, call or text the person who listed it, and get directions. PlugShare hopes to launch a study of the app's impact on the environment so users can celebrate the positive impact they're making, not unlike other resource-sharing models like Denver B-cycle (members can track their miles ridden, calories burned, carbon off-set and money saved — and compare their stats to other members of the B-cycle community).
News - 25/03/2011
World leaders unite to send messages of support for Earth Hour
by
ClickGreen staff
"Earth Hour has become a special symbol of determination of so many people to make a difference."
"Sharing responsibility holds the key to fighting climate change," said PM
UN Secretary General Ban Ki-moon leads a host of world and civic leaders supporting Earth Hour 2011 as a powerful symbol of a shared global need for a sustainable and secure future.
"All over the world individuals, communities, businesses and governments are creating new examples for our common future – new visions for sustainable living and new technologies to realise it," said UN Secretary General Ban Ki-moon. "Tomorrow, let us join together to celebrate this shared quest to protect the planet and ensure human well-being. Let us use 60 minutes of darkness to help the world see the light."
Messages of support for Earth Hour 2011 have also come from a host of world and civil leaders, including Archbishop Desmond Tutu, UK Prime Minister David Cameron, Australian Prime Minister Julia Gillard and Colombian President Juan Manuel Santos.
"Climate change is the greatest human induced crisis facing our world today. It is totally indiscriminate of race, culture, class, nationality or religious belief. It affects every living organism on the planet – including all of us," Archbishop Tutu said.
He added: "Through the symbolic act of switching off our lights for one hour on Saturday 26 March from 8.30 – 9.30pm we will collectively send our clarion call for change around the globe. 'Please, political leaders and captains of industry, we implore you. Take action against climate change now'."
Hundreds of millions of people in 133 countries and territories across the globe are expected to switch off their lights at 8:30pm local time tomorrow, Saturday 26 March. In a series of video messages posted to YouTube, world leaders have pledged their support for the world's largest voluntary environmental action.
Colombian President Juan Manuel Santos asked Colombians to turn off the lights for one hour on Saturday March 26 at 8:30pm, and to take action for the environment every day, every hour. "We cannot put off any longer saving the planet nor cut back on our efforts to ensure its sustainability,"
President Santos said: "These 60 minutes without lights, between 8:30 and 9:30 at night, will be a symbolic act but also a reminder that every day, every hour in our normal lives we can turn off the lights we don't need, disconnect those appliances when we're not using them, save water and think on how to save the planet.
"It will be an hour without lights, but with stars, a lot of stars. One hour for our planet, the first of many."
UK Prime Minister David Cameron has pledged to make the coalition Britain's "greenest-ever government" in the fight against climate change.
"Sharing responsibility holds the key to fighting climate change," Mr Cameron said. "It will be the choices we make as individuals which will mean the difference between success and failure.
"That's what Earth Hour is all about - millions of people all over the world coming together to switch off their lights, tackle climate change and protect our natural world. It is a huge symbol of global solidarity, an inspiring display of international commitment."
Australian Prime Minister, Julia Gillard has also lent her voice to Earth Hour by vowing that she and her government will go beyond the hour by, "doing everything in my power to deliver a carbon price".
News - 24/03/2011
Cutting CO2 will help reduce risk of droughts, study finds

by ClickGreen staff
Less CO2 means a wetter climate
Recent climate modelling has shown that reducing the concentration of carbon dioxide in the atmosphere would give the Earth a wetter climate in the short term.

New research from Carnegie Global Ecology scientists Long Cao and Ken Caldeira offers a novel explanation for why climates are wetter when atmospheric carbon dioxide (CO2) concentrations are decreasing.

Their findings, published online today by Geophysical Research Letters, show that cutting carbon dioxide concentrations could help prevent droughts caused by global warming.

Cao and Caldeira's new work shows that this precipitation increase is due to the heat-trapping property of the greenhouse gas carbon dioxide in the atmosphere. Carbon dioxide traps heat in the middle of the atmosphere. This warm air higher in the atmosphere tends to prevent the rising air motions that create thunderstorms and rainfall.

As a result, an increase in the atmospheric concentration of carbon dioxide tends to suppress precipitation. Similarly, a decrease in the atmospheric concentration of carbon dioxide tends to increase precipitation.

The results of this study show that cutting the concentration of precipitation - suppressing carbon dioxide in the atmosphere would increase global precipitation. This is important because scientists are concerned that unchecked global warming could cause already dry areas to get drier. (Global warming may also cause wet areas to get wetter.) Cao and Caldeira's findings indicate that reducing atmospheric carbon dioxide could prevent droughts caused by climate change.

"This study shows that the climate is going to be drier on the way up and wetter on the way down," Caldeira said, adding: "Proposals to cool the earth using geo-engineering tools to reflect sunlight back to space would not cause a similar pulse of wetness."

The team's work shows that carbon dioxide rapidly affects the structure of the atmosphere, causing quick changes precipitation, as well as many other aspects of Earth's climate, well before the greenhouse gas noticeably affects temperature. These results have important implications for understanding the effects of climate change caused by carbon dioxide, as well as the potential effects of reducing atmospheric carbon dioxide concentrations.
"The direct effects of carbon dioxide on precipitation take place quickly," said Cao. "If we could cut carbon dioxide concentrations now, we would see precipitation increase within the year, but it would take many decades for climate to cool."
Spring spells time to get ready for Green Deal

by

ClickGreen staff.
End of winter is ideal time to start thinking of Green Deal

Spring is here. Temperatures are rising and life is beginning to bloom again, which should mean that mean households will be reaching for the off switch on their central heating.
After a few cold snaps this winter many people will be hoping the change of season will mean their fuel bills will drop, which could free up a few pounds for renovations. And while it may seem this "age of austerity" is all about cut backs and gloom, there are lots of ways of spending a little on your house to secure a cheaper future.
This week's Government's budget provided more financial incentives to support the upcoming Green Deal. Provided for in last year's Energy Bill, the Green Deal aims to help households and businesses make energy efficiency improvements without having to "front up" the cash. At the moment some of the cheaper options, such as cavity wall insulation are covered under the Golden Rules of the deal, whereby cost savings households make must be lower than the amount they are loaned for refitting.
The Green Deal is due to be launched in 2012, which coincides with a government backed nationwide roll-out of smart meters.
The Energy Saving Trust estimates that around 26 million households will be fitted with a smart meter by 2020. It is expected the near real time data and single hub electronic monitoring that smart meters will provide is going to be very beneficial in helping consumers track household energy consumption, as well as helping identify areas where the climate change battle can best be fought.
As households begin to get clearer information on where energy consumption in their homes may be too high, smart meters will help with educated choices on what energy efficiency improvements can be taken. One of the most effective, and one that currently qualifies for the Green Deal, is cavity wall insulation. The process involves filling the gap commonly found in external walls in homes built in the early part of the 20th century.
According to the Energy Saving Trust, households could save around £110-a-year on heating bills following cavity wall insulation. It's a measure that repeatedly pays for itself as the better insulated your home, the less energy you need to keep it warm - and the more money you'll save.
Britain's "smart grid" will be one of the most sophisticated in the world and suppliers of technology needed to install and run the system are locked in competition to secure contracts.
Telecommunications and information technology companies are looking to develop systems that will create hub of data collection and information. It is thought that energy companies will be able to bill consumers more accurately - while at the same time offering more transparency on rates. This should mean households can better regulate their energy consumption, such as ensuring high powered appliances are not overused.
So, the change of season could mark a change in direction for how people improve and run their homes - by investing a little in new technology, lots of money could be saved in long term.